😭 Tired of Your Children Complaining About Itches Caused By Lice And Nits?😭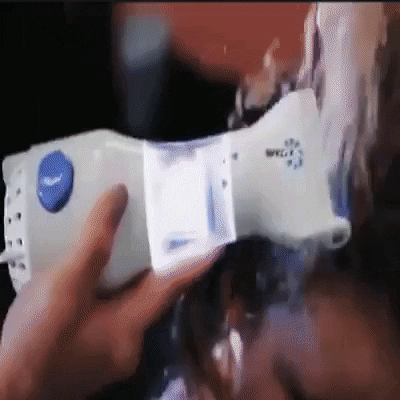 If you cannot find a remedy or solution to eliminate the uncomfortable bugs that disturb your children's peace of mind day by day, worry no more! We present you the lice and nits vacuum comb that will help you instantly eliminate these annoying bugs from the scalp.
Our electric Anti-Lice Comb is your best ally for the painless and effective removal of lice. It also catches the eggs to prevent them from hatching again in the near future, and seals them in a bag for a more comfortable and clean process.
✔️ Nano-Bind Teeth technology uses positive ions to separate ALL eggs and lice.
✔️ The vacuum pulls all lice and eggs into a confined filter bag.
✔️ Ultraviolet light technology completely kills all captured lice and nits.
✔️ Completely removes lice eggs and nits.
✔️ Does not pull out hair.
✔️ Painless treatment done with a soft hairstyle.
✔️ Can be used on wet hair.
✔️ Designed to save energy.
✔️ 100% free of pesticides and chemicals.
✔️ Safe for children.
✔️ Takes the stress out of using dangerous and smelly pesticides.
✔️ V-COMB will not damage your lungs like traditional chemical alternatives.
✔️ Reduces the risks of a second lice infection by 88%.
✔️ Works on any type of hair.

The Appliance  Does Not Use Chemical Products,  Pesticides And Is The Most Effective,  Ecological And Natural Treatment For The Elimination Of Lice
The appliance does not use chemical products or pesticides and is the most effective, ecological, and natural treatment for the elimination of lice.
The Lice Removal System uses the power of suction to gently lift lice and their eggs from the scalp and hair. It uses its rounded stainless steel teeth comb, and its suction power helps to easily go through the scalp, gradually lifting lice and eggs.
It is a treatment for lice that is reusable for children and adults. It also detects and prevents infestations.
Immediate visible results are guaranteed, and the benefits of using the lice and nits vacuum comb are numerous:
✔️ Eliminates lice and nits in a simple way.
✔️ Does not use aggressive chemicals on the scalp.
✔️ Quick, effective, and painless method.
✔️ Can be used by adults and children over 3 years of age.
✔️ Interior LED for better visualization of the tank.
✔️ Detects and prevents re-infestation of lice.
Here's how to use it:
Step 1 – Firmly attach the capture filter to the vacuum machine.
Step 2 – Hold and push down on the levers on both sides to adjust the angle of the comb.
Step 3: Brush the hair and separate it into sections.
Step 4: Use your vacuum machine upwards, starting from the base of the neck.
Step 5 – Comb through each section several times in all directions.
Step 6 – After you finish brushing, remove the capture filter and put on the lid. Then, remove the bugs.